Categories
Flowing Equines – The Blue Divine Neerajj Mittra, Delhi, India
God made the HORSE from the BREATH OF THE WIND, the BEAUTY OF THE EARTH and the SOUL OF THE ANGEL
The horse is God's gift to mankind. ~Arabian Proverb
If my love for my muse could ever be en captured in words then this Arabian proverb says it all. Dream of my childhood, buddy of my youth, I gallop into my soul with my muse.
Truly, a horse is a gift of Divinity from Divine for all what is Equine.
Trust they stand tall for, loyalty and wisdom they never let their knights fall, powerful to trot beyond eternity, poignant and graceful they define DIVINITY.
As I looked at my muse it smiled and I knew that the journey I have treaded is of years, but what my muse has trotted is stretched beyond the MILES. Surreal, simple, humble, yet powerful, passionate and brave. My muse is the KING OF EXTREMES. With care and compassion it makes me gallop on the ridges of the paper, with balance and stability it inspires my pen to script its sojourn one trot a time, with power and passion it galvanises my inks to flow unbridled.
Smooth and shiny, rough and tough, my muse and I trot the crests and troughs.
A horse is poetry in motion.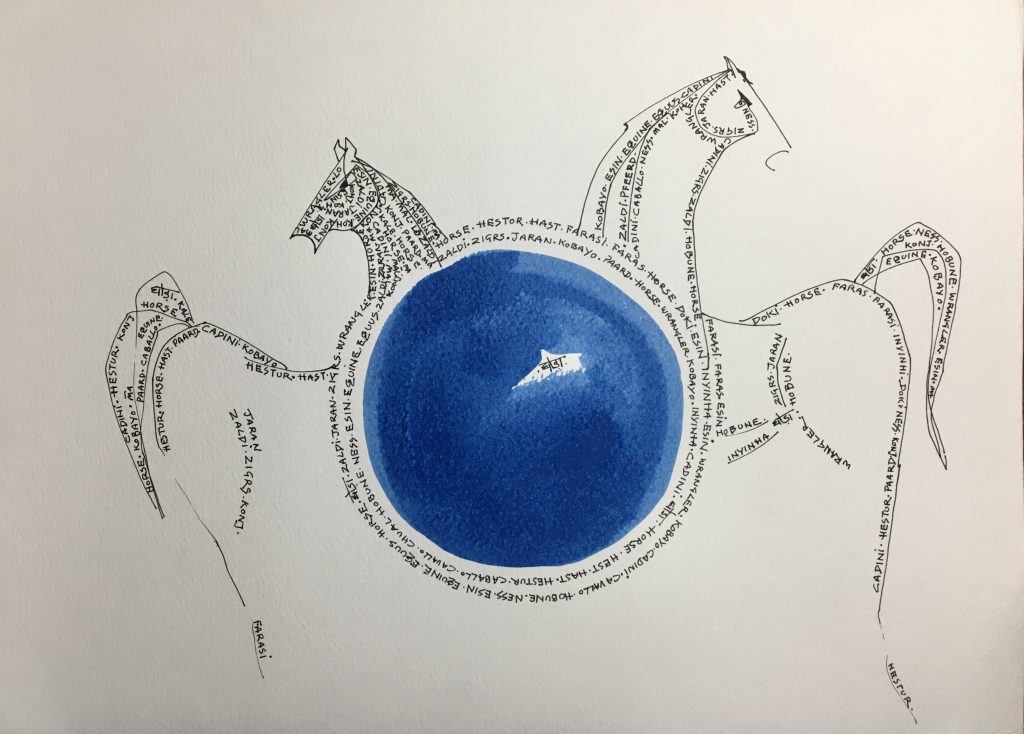 To ride a horse is to ride the sky. ~Author Unknown
ETHEREAL THY NATURE ETERNITY THY NURTURE 
I remain 
Neerajj Mittra
Visual Artist, Art Curator, Gallerist & Explorer of Life
Website http://www.neerajmittra.com/ 
Instagram https://instagram.com/neerajjmittra?igshid=1t46jds64yep9
Facebook https://www.facebook.com/neerajj.mittra
You Might Also Like:
On Space and Fogginess, Lack of Language and Painting. M. Jacinta Silva Armstrong, London.
Flowing Equines : Happy New Year 2121 Neerajj Mittra & His Muse, New Delhi, India
Flowing Equines: Fiery Passions Alluring Dreams by Neerajj Mittra, New Delhi, India
Find the resident or publication