Categories
Self Isolation Self Portrait – Ciana Fitzgerald
I've just completed by latest work titled 'Self-Isolation Self-Portrait.' Created during week nine in lockdown due to the Covid-19 pandemic, it explores the themes of identity and isolation.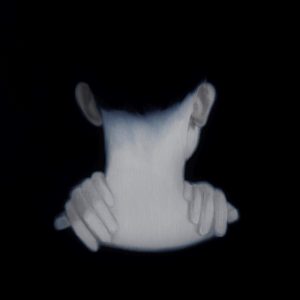 I wanted to mirror the current climate of uncertainty we all find ourselves in by creating a pensive atmosphere through colour and form. In this self-portrait I am looking away, there is no way to know who the figure is except for the title. By not focusing on the face the figure becomes universal, and by doing so I'm hoping to forge a direct emotional connection with the viewer, one of shared experience. Shared experience, and the feeling of being understood is essential to the human experience I feel, especially during these trying times.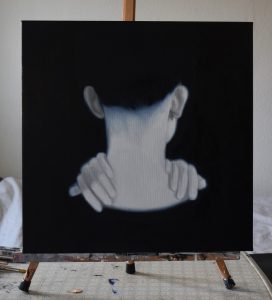 Although I worked from a photograph I had taken of myself, I wanted to create an atmosphere outside time and outside the linear, so my colour palette was mixed intuitively. My aim in doing so was to create an emotional imprint rather than a solely figurative painting, so that despite it's photographic source the visceral blues, greys and blacks emanate a sense of collective nostalgia, offering viewers a dreamlike moment of imaginative connection, and the chance to recognize fleeting and universal emotions.
The deep, dark background is reminiscent of a memory from a dream, neither based wholly in reality nor of this world, like a parallel universe. Much like how the pandemic feels, life momentarily in an alternate universe.
You Might Also Like:
On Space and Fogginess, Lack of Language and Painting. M. Jacinta Silva Armstrong, London.
Flowing Equines : Happy New Year 2121 Neerajj Mittra & His Muse, New Delhi, India
Flowing Equines: Fiery Passions Alluring Dreams by Neerajj Mittra, New Delhi, India
Find the resident or publication