Categories
Lockdown Inspiration, reflections on the work of Andrei Tarkovsky – Ciana Fitzgerald
Staying motivated and inspired during the uncertain times presented to us amidst the covid-19 lockdown is sometimes quite tough. We can tend to be very hard on ourselves for not doing what we deem as 'enough,' or not being as productive as we expect of ourselves. Ruminating feelings of inadequacy coupled with the prerequisite of disappointment in the self can cause creative motivation to fade somewhat. I find that taking the time out to reflect on those who deeply inspired my creative practice is a good place to start in rejuvenating the artistic spirit. I'm going to share with you now one of my most prolific inspirations, not just for my film practice but my painting practice too, Andrei Tarkovsky the master of cinema.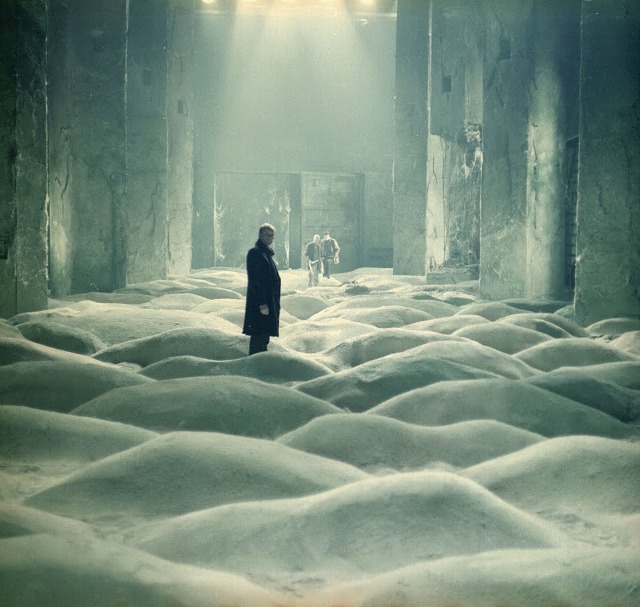 I cannot begin to explain how much of an influence Tarkovsky has had on my creative practice. When I first came to art college, I had alot to say and was just beginning to learn how I could express everything. My growing up years had been many years of very painful experiences that I was just beginning to come to terms with and confront.
Primarily a painter, I began to get exasperated with the static image, as I felt a still image could not accurately convey the sprawling ruminations I needed to channel somewhere. A friend recommended I watch Tarkovsky's 'Stalker,' and my life changed forever from that point on. I knew I wanted to expand my practice to filmmaking. I was so astonished at this masterful approach to moving image sequences, it's pure poetic allegories and deeply affecting dialogue, I had to watch each of his six other films immediately, taking the next day off college to do so.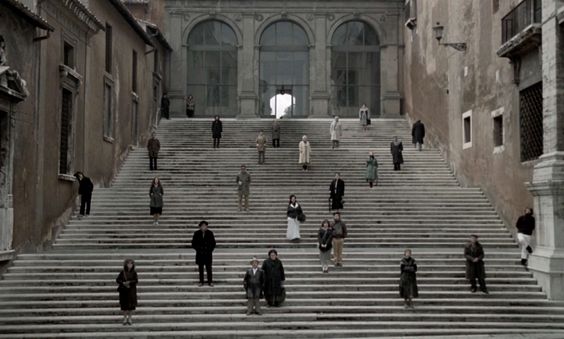 "I think that by concealing the shadowy aspects of life it is impossible to reveal deeply and fully what is beautiful in life. All the processes occurring in the world are born from the battle between old and new, between what has died and what is accumulating strength for life. And the cinema, like any other art, is mostly interested in this process; life in its movement."
An excerpt from an interview and Andrei Tarkovsky conducted by Alexandr Lipkov on February 1, 1967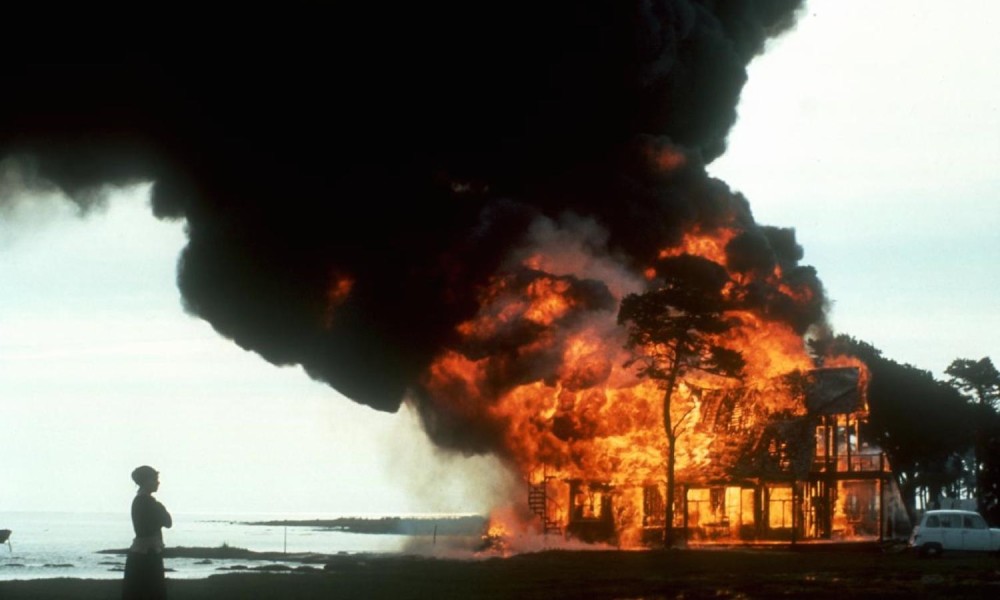 One positive aspect of the lockdown is that it has afforded me the time and space to read once more, a time with little impending deadlines that distract. I took the opportunity of ordering a book I've wanted to get for so long but never had the time until now.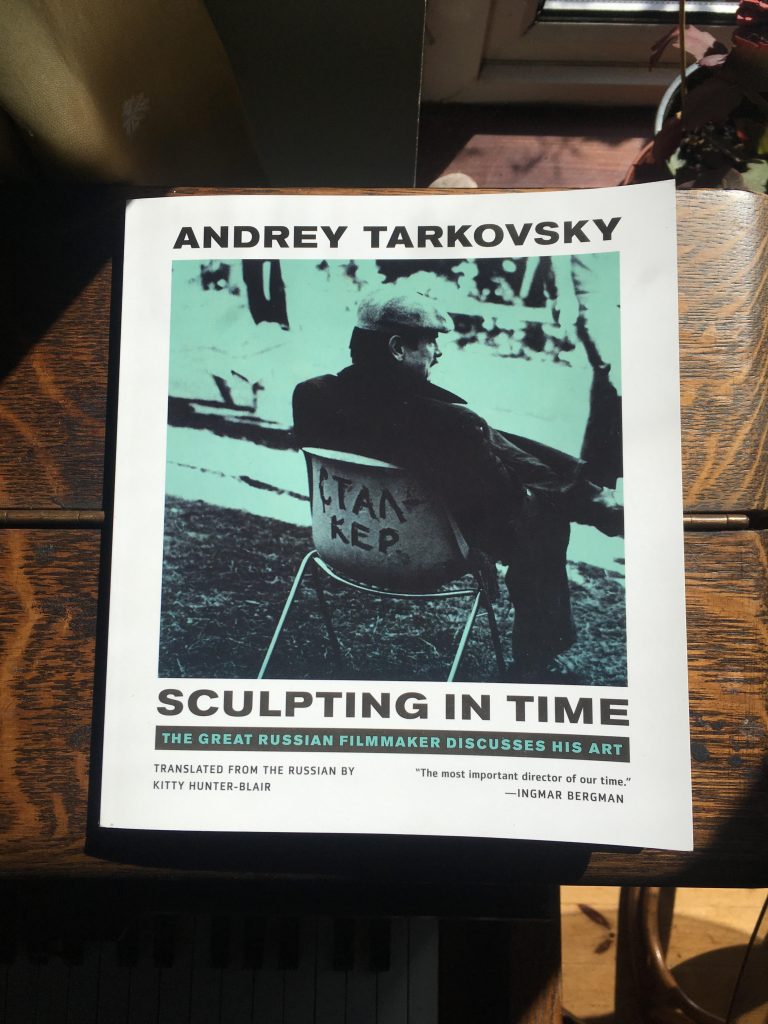 Below is my favourite page so far, a reflection on time. Quite apt in our current global climate.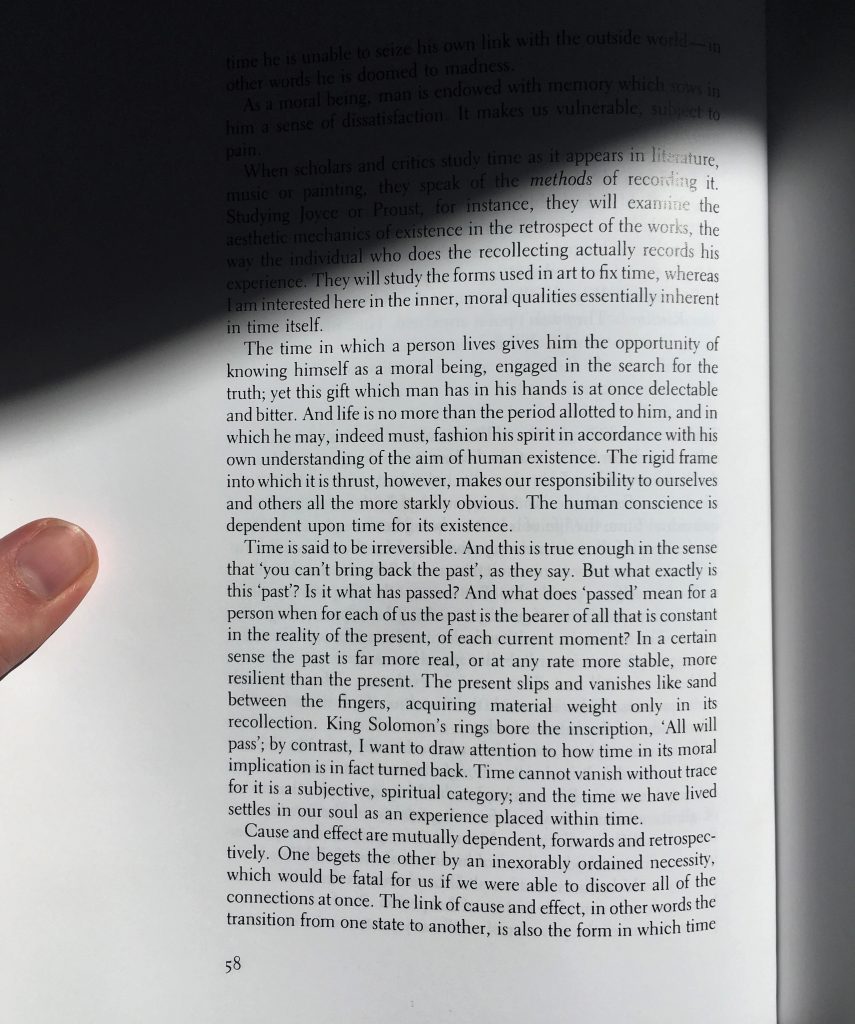 I hope this touches another here with a hand of motivating inspiration. I would love to know how others here manage to keep themselves motivated through lockdown and isolation. Let's start a discussion!
For now though, here's a quote from the dialogue of Tarkovsky's 'Stalker.' My favourite quote from any film I've ever seen.
"Let everything that's been planned come true. Let them believe. And let them have a laugh at their passions. Because what they call passion actually is not some emotional energy, but just the friction between their souls and the outside world. And most important, let them believe in themselves. Let them be helpless like children, because weakness is a great thing, and strength is nothing. When a man is just born, he is weak and flexible. When he dies, he is hard and insensitive. When a tree is growing, it's tender and pliant. But when it's dry and hard, it dies. Hardness and strength are death's companions. Pliancy and weakness are expressions of the freshness of being. Because what has hardened will never win."
Quote from Tarkovsky's Stalker, 1979
You Might Also Like:
Flowing Equines : Happy New Year 2121 Neerajj Mittra & His Muse, New Delhi, India
Flowing Equines: Fiery Passions Alluring Dreams by Neerajj Mittra, New Delhi, India
Flowing Equines: Merry ARTY & HEARTY Christmas, Neerajj Mittra, New Delhi, India
Find the resident or publication