Categories
Welcome to THE CITY!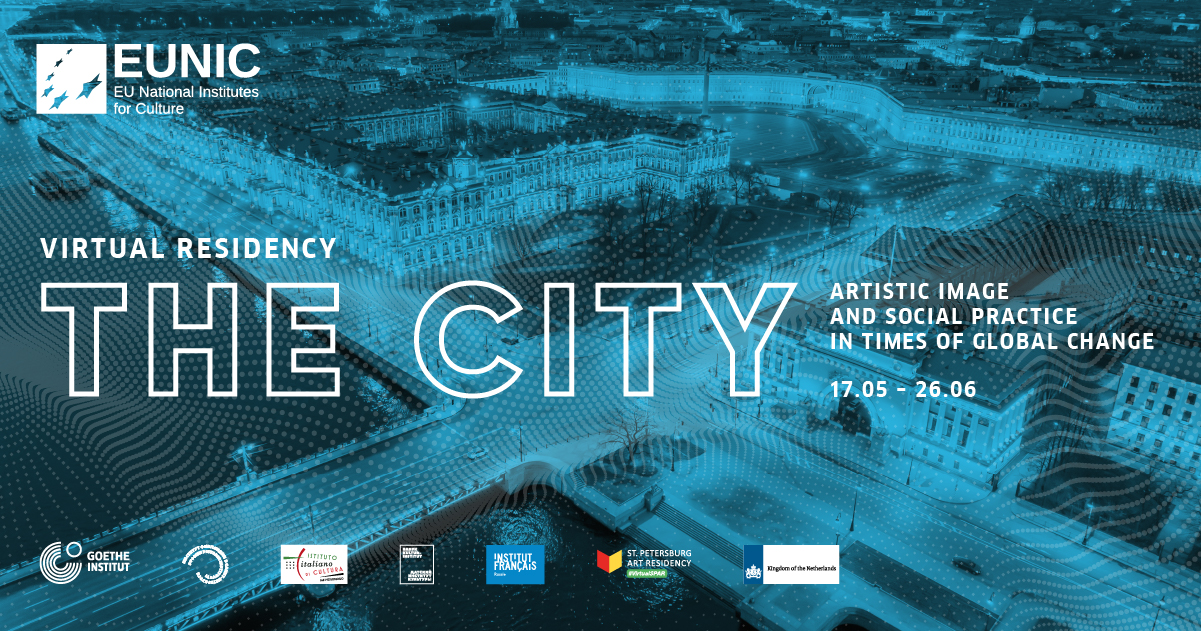 ? UP NEXT:
Panel disucssion on 28.06 at 14:00 CET / 15:00 SPB
?? Urbanism, Digitization and Safety. How to interact without harming the privacy? What makes our City beautiful and safe beyong the "Big Brother" model? Feminist perspeсtives on the safe City concept.
Speakers: Members of the Creative Association of Curators TOK – Anna Bitkina & Maria Veits, THE CITY virtual artists-in-residence Scenocosme – Anais met den Ancxt & Grégory Lasserre, Nanda Raemansky.
Moderated by Anastasia Patsey.

Live on Zoom & EUNIC St. Petersburg Facebook page
We're glad to introduce you to a new season at #VirtualSPAR, that will turn our platform into a multicultural, multigeographic, and multimedia city.
From May 17th to June 26th 2021 twelve artists from seven countries will be working in a shared online studio at #VirtualSPAR and building THE CITY. In their projects, the citizens will address the theme of artistic image and social practice in a time of global change.
These days, more than half of the planet ́s population lives in cities. Whatever the future holds: The way we will live tomorrow will largely depend on how city life is changing today and how it will develop in times of global crises. Artists are among those who sense those changes very clearly. They transform their vision into "images", and at times work
in social or participatory formats in the midst of our societies. What does their visual practice look like, and what can we learn from their social practice?
THE CITY includes a virtual residency and a program of professional and public events. The projects of the participants will be presented at an online exhibition in July-September 2021. Stay tuned for more details!
This project is organized by the EUNIC St. Petersburg in collaboration with the St. Petersburg Art Residency and funded by the EUNIC Global Cluster Fund "European Space of Culture".
---
THE CITIZENS:
SISTERS HOPE (Denmark)
JARKKO RÄSÄNEN (Finland)
SENOCOSME – Grégory Lasserre & Anais met den Ancxt (France)
MARIE-EVE LEVASSEUR (Germany)
FILIPPO FABBRI (Italy/France)
DANIELE LEONARDO (Italy)
ANNE FEHRES & LUKE CONROY (The Netherlands)
NANDA RAEMANSKI (The Netherlands)
EVGENY LUKUTA (Russia)
LESYA ILENOK (Russia)
ILDAR IAKUBOV (Russia)
NATALIA TIKHONOVA (Russia)
---
THE GUIDES:
Olessja Bessmeltseva (Goethe Institut), project coordinator

Anastasia Patsey (#VirtualSPAR), curator
Elizaveta Ordinartceva (#VirtualSPAR), project coordinator
Olivia Evans, Katelyn Albrecht (#VirtualSPAR), project assistance
---
THE TOURS:
Mondays at 11:00 CET / 12:00 SPB (weekly)
☕️ Coffee & Sightseeing (Zoom / internal)

Wednesdays at 14:00 CET / 15:00 SPB (weekly)
? Garage (Zoom / internal)
Fridays 14:00 CET / 15:00 SPB (biweekly)
28.05 + 11.06 + Moday 28.06
? OPEN TALKS (public)

Zoom / To get the link please contact spar.coordinator@gmail.com & Live stream on EUNIC St. Petersburg Facebook page
Saturdays + Sundays 12:00 CET / 13:00 SPB
? ARTIST'S WALKS (public)

Live on the EUNIC St. Petersburg Facebook page

PANEL DISCUSSIONS: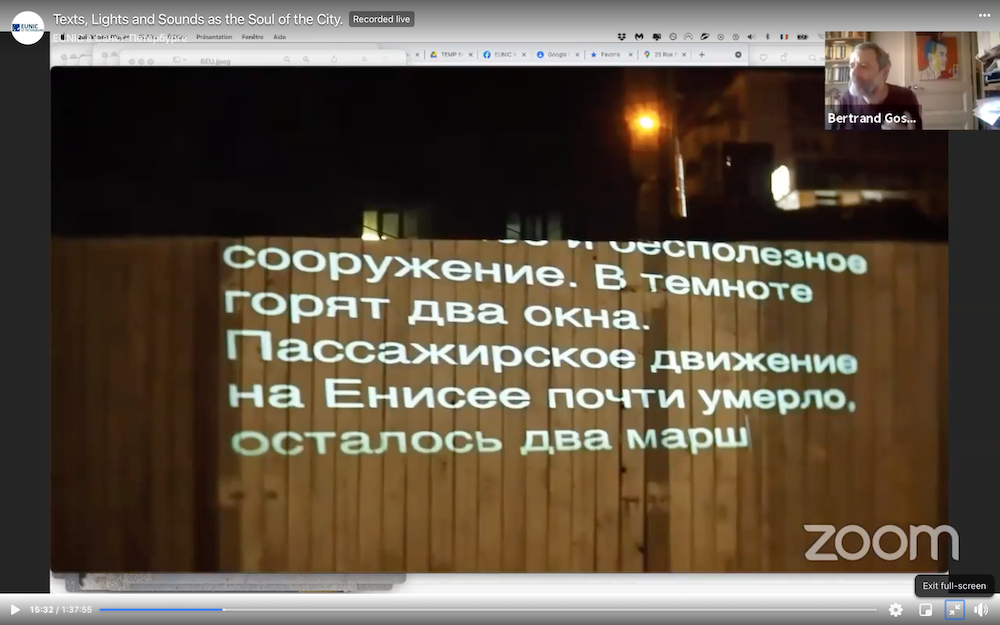 ?TEXTS, LIGHTS, AND SOUNDS AS THE SOUL OF THE CITY. Natural and artificial environments which make the City alive / Speakers: Henriette Borg Reinholdt (Director of the Danish Cultural Institute in Russia), Albina Motor (art producer, founder of Street Art Research Institute, initiator of the Waterfront project), Anne Fehres & Luce Conroy (virtual artists-in-residence of THE CITY project), Bertrand Gosselin (undisciplined art actor) / Moderated by Anastasia Patsey Watch the recording on the EUNIC St. Petersburg Facebook page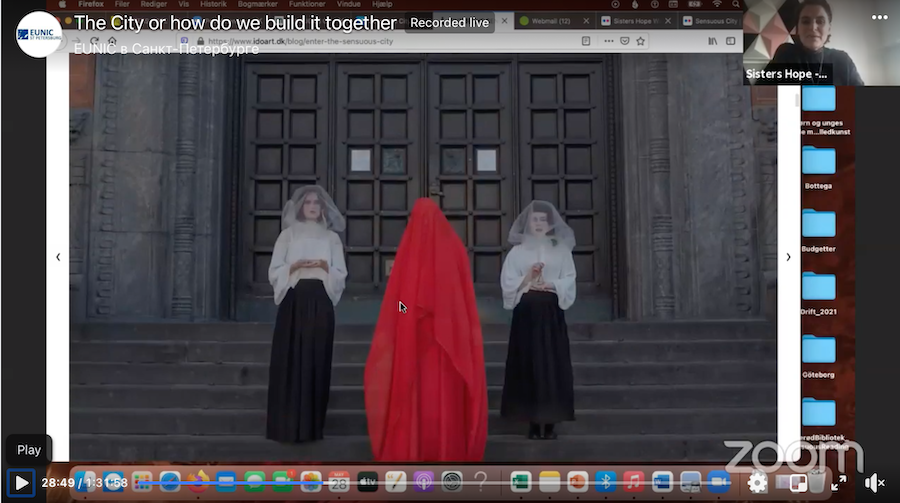 ?THE CITY: HOW DO WE BUILD IT TOGETHER? Activist and artistic interventions reviving connections between people and their natural and urban surroundings / Speakers: Dmitry Pilikin (artist, curator, and researcher at the Street Art Institute, St. Petersburg), virtual artists-in-residence of THE CITY project Sisters Hope Collective, Jarkko Räsänen, and Nanda Raemansky / Moderated by Anastasia Patsey Watch the recording on the EUNIC St. Petersburg Facebook page
---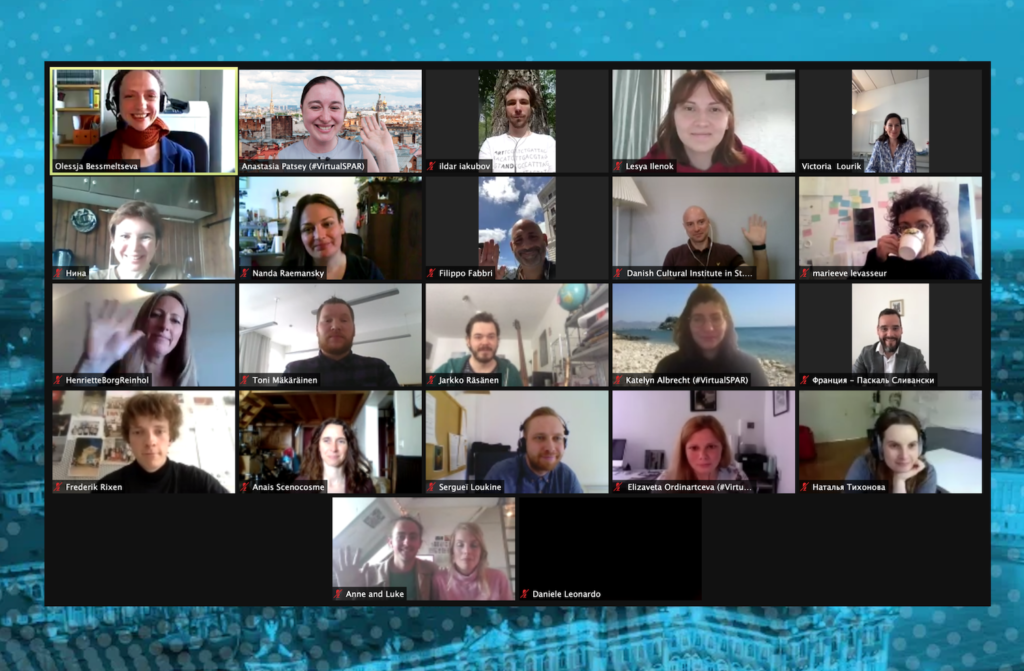 ---

You Might Also Like:
Behind The Screens, Anne Fehres & Luke Conroy
Cathedrals in the desert by Daniele Leonardo
Find the resident or publication