Categories
URBAN ASPECTS / Quarantine – 12 Iara Abreu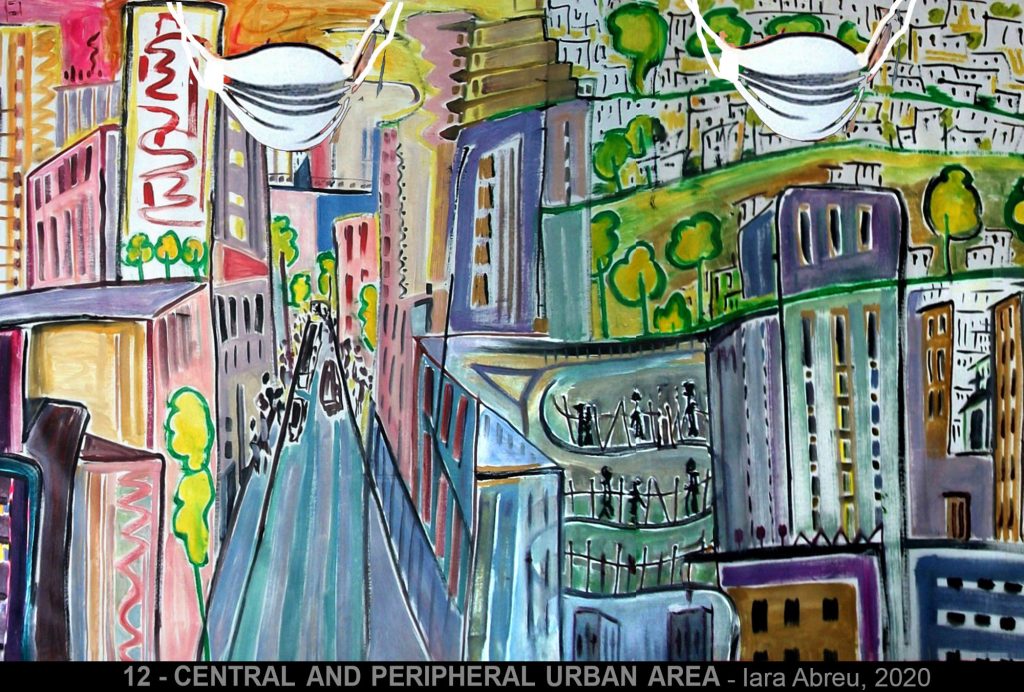 This is the profile of the big cities in the capitalist universe. The dwellings are very distinct as in the image: central area – privileged noble areas and peripheral areas, workers, where usually reside low-income people and workers, informal or not; people on the margins of society and opportunities, excluded, without access to education, health and culture. And in times of isolation and pandemics, people from the poorest classes suffer the most.

And in this pandemic virus context, no one is saved from belonging to the risk group. All are leveled to the same level of isolation, restrictions and behavior… Maybe this moment wants to teach us something…
This image is one of the scenes of the large panel "Urbe" 2005 (100 cm x 11 meters), made for the first exhibition of the project URBAN ASPECTS.
12 – ÁREA URBANA CENTRAL E PERIFÉRICA
Esse é o perfil das grandes cidades, no universo capitalista. As moradias são bem distintas como na imagem: área central – áreas nobres privilegiadas e áreas periféricas, operárias, onde normalmente residem as pessoas de baixa renda e trabalhadores, informais ou não; pessoas à margem da sociedade e das oportunidades, excluídas, sem acesso à educação, saúde e cultura. E em tempo de isolamento e de Pandemias, as pessoas de classes mais pobres são as que mais sofrem as consequências.
E nesse contexto virótico pandêmico, ninguém se salva de pertencer a grupo de risco. Todos ficam nivelados a um mesmo patamar de isolamento, de restrições e de comportamento… Talvez esse momento queira nos ensinar alguma coisa…
Esta imagem é uma das cenas do grande painel "Urbe" de 2005 (100 cm x 11 metros), feito para a primeira exposição do projeto ASPECTOS URBANOS.
https://iaraabreu.blogspot.com/
https://www.youtube.com/channel/UCdnaomf4lR51JMu3KSYDhkg 
You Might Also Like:
Why do I create Instagram paintings of the past? Laurence de Valmy (USA)
About Art and Social Media – Laurence de Valmy (USA)
Find the resident or publication