Categories
SPAR VIRTUAL RESIDENCY, spring 2020, Mariëlle van den Bergh
We, partner and fellow artist Mels Dees and I, happened to be on the island of Terschelling when the coronavirus hit The Netherlands. We had planned a two-week holiday and took some art tools and a lot of books with us. We waved goodbye to the American friends who would look after our house. New York writer West Moss, author of  "The Subway Stops at Bryant Park" and winner of the Saturday Evening Post's Fiction Contest planned to do some new work in our place: www.nwestmoss.wordpress.com
It was never to be, because in a few days time the first Dutch Corona patients and, in the days after, a fast-growing number of infected contacts were discovered and strict measures were taken – both nationally and internationally.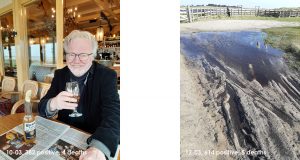 We had spent two days on the island when, in the middle of the night, we received a mail from West that she and her friend Laura were heading towards Schiphol, the main national airport, on their way back home. International air connections and borders were being closed down. The pace at which these measures were taken and their severity frightened us. Our prime minister Marc Rutte, accompanied by his chief ministers gave a press conference on the television – looking very serious, for a change. There even was a sign language interpreter standing next to him, something rarely seen on Dutch television.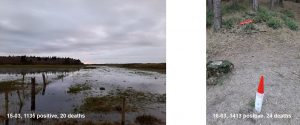 We cycled around on Terschelling and enjoyed the pristine beaches. The Corona Crisis stayed a bit abstract because there was zero contagion on the island. However, we all had to take the obligatory precautions:  keeping a distance of 150 cm to the next person (not belonging to your own household), washing hands a lot, using disinfection gel at supermarkets, staying at home when if you were coughing, sneezing or running a temperature. This would last for two weeks or for as long as it would be necessary. Schools were closed.  In fact, the closure of the restaurants and bars happened half an hour after the PM's press conference. Long queues formed in front of the Dutch coffee shops (where you can buy cannabis) and funny enough, they reopened the next day.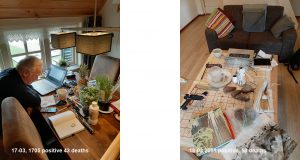 Each night we watched the news on television in our rented cottage. Day by day the situation became more and more grim. The number of infected people was listed, as were the number of Intensive Care patients  and the death toll. There was a map of The Netherlands and our home region was hit hardest. We decided to extend our stay at Terschelling and booked a new cottage. After two weeks we moved to the next rented cottage.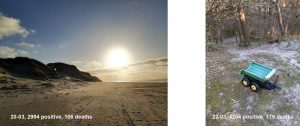 As artists, you're never out of work. Somehow the delicious feeling of being bored never lasts for long. Any experience or impression can be inspirational and may trigger a new flow of thoughts, leading to new work.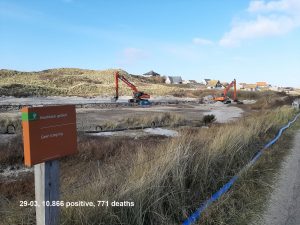 We found out that there was a huge project being executed at Terschelling, eradicating an invasive plant species from New Zealand (Pigmy weed or Crassula) from the island's vulnerable sweet-water ponds. They drain the water from infected areas, lowering the ground water level, and then shovel off the matted plants.
You Might Also Like:
What is / Что такое NONCONFORM?
Дворец культуры / Palace of Culture
Find the resident or publication