Categories
Introduction , Scenocosme : Gregory Lasserre & Anais met den Ancxt
We are a couple of artists and we do interactive digital artworks together since many years.
We invite you to discover our precedents artworks on our website :
www.scenocosme.com/index_e.htm
Our artistic approach is characterized by the exploration of the notion of interactivity : our artworks exist and evolve thanks to the action of audience. Each project involves time of research and innovation. When we use technologies in our artworks, we invent new ways of interactions. We explore relationships with our social environment by designing interactive digitak artworks. For several years, we do artworks with natural elements, human body and social relation. We interpret this sensoriality by diverse interactions. In this way, we remind that our environment is made of alive, reactive things.
During the period of the City Virtual residency, we would like to think about a new digital artwork with an attention to the perception of the current crisis and the human relations, in a context that we think convenient to the perception of this kind of creation. The question of the relation between the work and the audience is always present in our artistic approach. How to reduce the distance between an artistic project and a public, by concerning it, by involving it? How to create visible and invisible links? Through symbolic interactions, we will develop these questions for the design of this artwork.
Our singular artistic approach has allowed us to exhibit in several art centers, biennials and digital art festivals around the world. We have also realized important interactive artwork installations for public space and citizens.
Our experience to create an artistic project will allow us to design a new digital artwork with symbolic questions and interactions for people.
Here are some examples of our new and precedents artworks and also artworks in progress since the Covid crisis. "Distances", "Contaminations" and "Iris" have been created in April 2020 in response to the Coronavirus context that forced us to be isolated and to have physical distances from the others.
————————————————–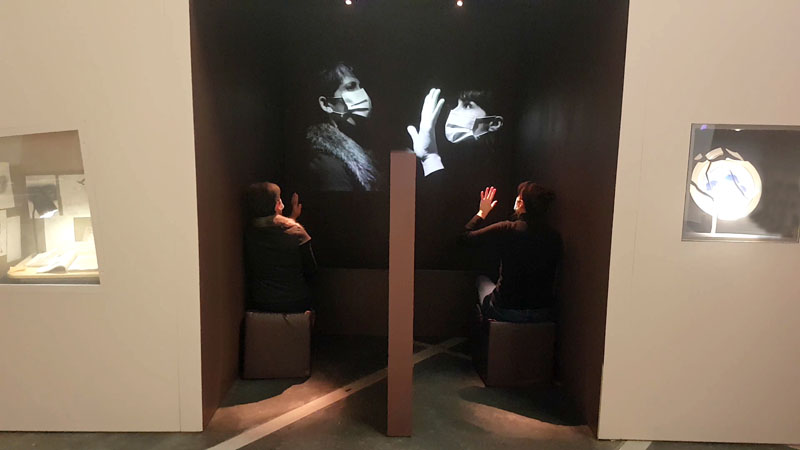 Distances

http://www.scenocosme.com/distances_e.htm
In reaction to the covid crisis, the interactive artwork "Distances" virtually brings together people who are not able to touch themselves physically. In this installation, 2 persons in 2 separate physical spaces are filmed in real time by 2 devices. They are invited to have contact virtually within the same image bringing them together face to face. The head-to-head proposed by the software of the artwork is trying to constantly reduce the proxemic distance between the two persons.
————————————————–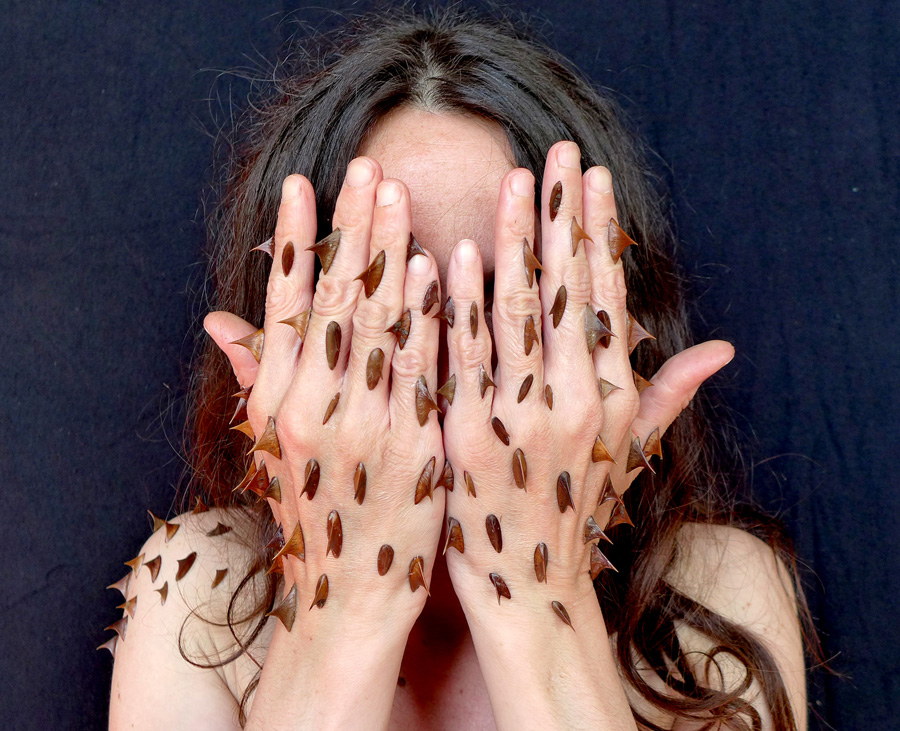 Contaminations

www.scenocosme.com/contaminations_e.htm
Contaminations" is a series of photos and objects.
The spine appeared to us as a strong symbol of these new physical and social distances born and experienced during this period of isolation due to covid. These distances profoundly affect us by transforming our relationship with others and the world. The spine is a mental projection on the perception of our own bodies, marked by fear, suffering and the search for protection.
————————————————–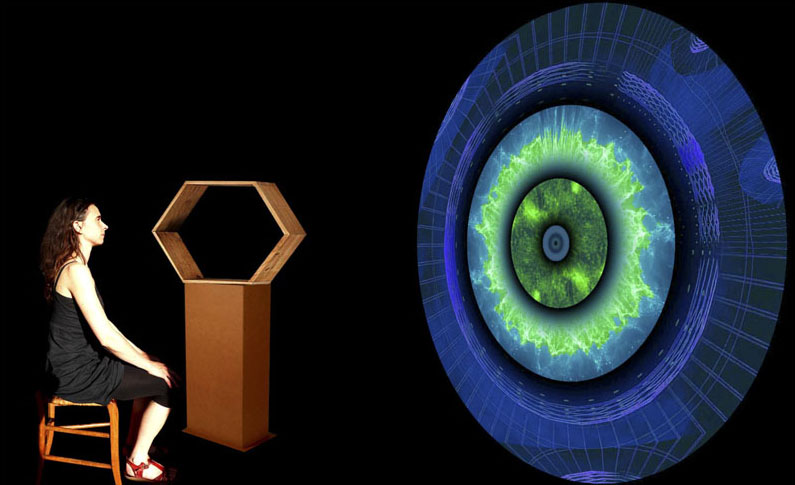 Iris


http://www.scenocosme.com/iris_e.htm
"Iris" is a visual and sonorous interactive artwork with the gaze. The eye is the engine of the work. As long as the gaze is maintained, kaleidoscopic shapes appear and are revealed according to the movement of the iris.
You Might Also Like:
Behind The Screens, Anne Fehres & Luke Conroy
Cathedrals in the desert by Daniele Leonardo
Find the resident or publication