Categories
URBAN ASPECTS / Quarantine – 14 Iara Abreu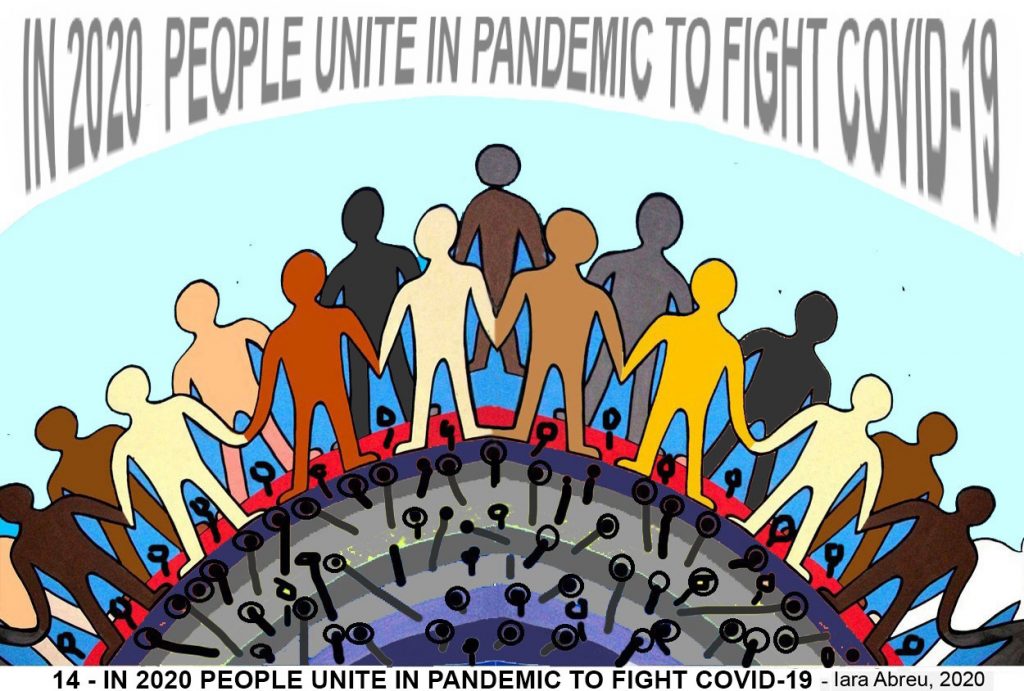 I think this is the first time that people have come together without exception, in combat against a common, invisible and deadly enemy that is COVID-19. I feel like I'm in a third world war, but a war without weapons, without combat planes and without physical confrontations; a bacteriological war. But this enemy is greater and universal; he leaves us isolated, acts in silence and does not inform us about his path… passes like wind, smooths our faces, enters us and stays uninvited. Then a fight is started against this cruel and unwanted guest. Sometimes with happy ending and sometimes with unexpected ending. And then we don't know what's coming.
14 – EM 2020, OS POVOS SE UNEM NA PANDEMIA EM COMBATE AO COVID-
Acho que é a primeira vez que os povos se unem sem exceção, em combate a um inimigo comum, invisível e  mortal que é o COVID-19. Me sinto como se estivesse numa terceira guerra mundial, mas uma guerra sem armas, sem aviões de combate e sem confrontos físicos; uma guerra "bacteriológica". Porém esse inimigo é maior e universal; nos deixa isolados, age em silêncio e não nos informa sobre seu trajeto… vai passando como vento, alisa nossos rostos, se entranha em nós e se hospeda sem ser convidado. Então uma luta é iniciada contra este hóspede cruel e indesejado. Às vezes com final feliz e, às vezes, com final inesperado. E assim ficamos sem saber o que está por vir.
19 https://iluarti.blogspot.com https://iaraabreu.blogspot.com/ https://www.instagram.com/iaraabreu2016/?hl=pt-brhttps://www.youtube.com/channel/UCdnaomf4lR51JMu3KSYDhkg
You Might Also Like:
Why do I create Instagram paintings of the past? Laurence de Valmy (USA)
About Art and Social Media – Laurence de Valmy (USA)
Find the resident or publication