Categories
URBAN ASPECTS / Quarantine – 10 Iara Abreu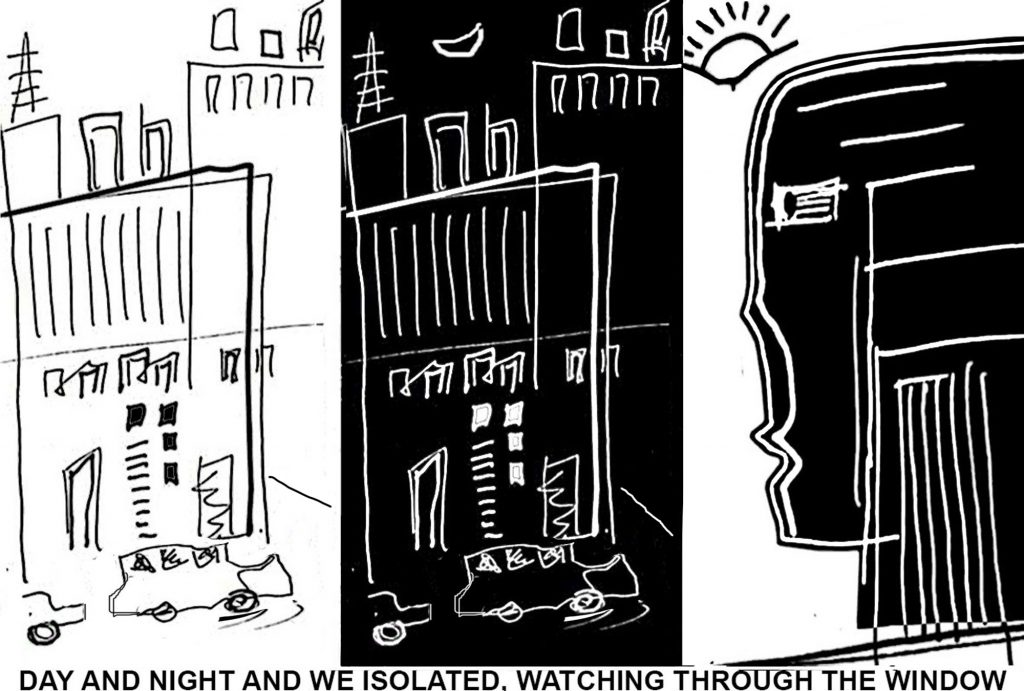 10 – DAY AND NIGHT AND WE ISOLATED, WATCHING THROUGH THE WINDOW
With the Pandemic we had to undergo a process of isolation, with a restricted routine, each one with its square meters, which until then was possible to diversify this "geography" with a whole external urban diversity.

I feel kind of robotic with little space and limited in the going and coming, restricted and directed, in a routine sometimes tiring. But as art completes me, "I travel and walk" through it.
And so we look out the window, reinventing ourselves and redirecting ourselves until COVID-19 is combated and "decide to abandon us".
***
Com a Pandemia tivemos que nos submeter a um processo de isolamento, com uma rotina restrita, cada um com seus metros quadrados o que até então era possível diversificar essa "geografia" com toda uma diversidade urbana externa.
Me sinto meio robotizada com pouco espaço e limitada no ir e vir, restrita e direcionada, numa rotina às vezes cansativa. Mas como a arte me completa, "viajo e ando" através dela.
E assim vamos observando pela janela, nos reinventando e nos redirecionando até que o COVID-19 seja combatido e "resolva nos abandonar"
https://iluarti.blogspot.com https://iaraabreu.blogspot.com/ https://www.instagram.com/iaraabreu2016/?hl=pt-br
You Might Also Like:
Why do I create Instagram paintings of the past? Laurence de Valmy (USA)
About Art and Social Media – Laurence de Valmy (USA)
Find the resident or publication