Categories
Riddhi Patel: Drawing inspirations and work process for "sight Unseen"
My foremost inspiration for any work starts with a cup of ginger tea and deep contemplation in breeze. Funny ideas emerge and somehow I make them work. I am talking about a day when my dad had some digestive problems and took medication for it. 7 to 8 types meds were lying around each in different colors and shape. Straightaway I took them to my studio and made some new work from my newly bought gouche. Excited hands can never resist new colors!
The medicines, the circles, the dots reminded me of things like concentration points, meditation and spiritual associations. The piece of paper, I thought didn't help me bring out those qualities. So this became a Groundwork for my series "sight unseen". Its entirely made on Khadi cloth. Specifying more about Khadi- It was originated in India during the time-phase of fight for freedom and hence remains a cultural symbol for the country. This cloth carries ethnic and traditional values and signifies my correlation of being a classical dancer.
Stressing on "Sight Unseen", its a series of 9 works which were inspired initially by surfaces of tissue and my scarf.
This is how I begin with my work!
After creating these, something popped up in my mind, it looks incomplete! The character of my painting is been missing. And then, I looked back to my previous work of medicines and it struck me. And next I did this.
When you notice the first picture, you have two different experiences. The image you see through plain glass and one with stripped glass. The predominance of the stripes and how it results into a completely distinct scenario highlighting the images in background took me by interest. Next day I had cut these white circles and black squares resulting into the final images and accumulating each idea! Henceforth, I present you the "Sight Unseen".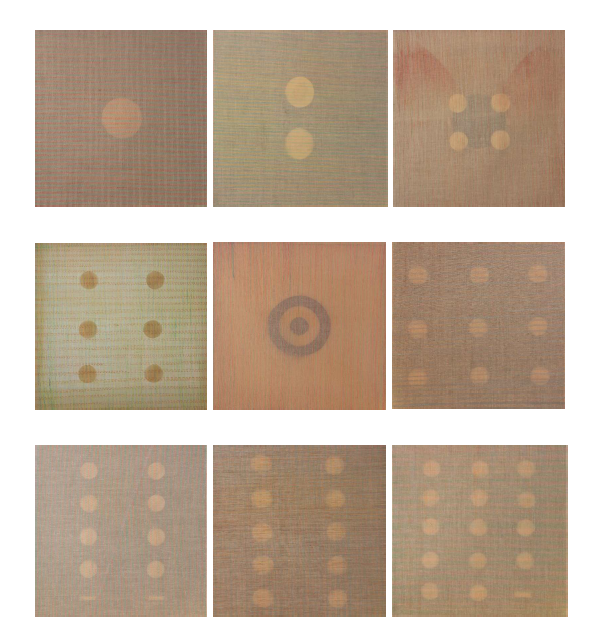 Sight Unseen – 2020,
Medium: Acrylic on Khadi fabric,
Size: 15 x 15 inch (x9)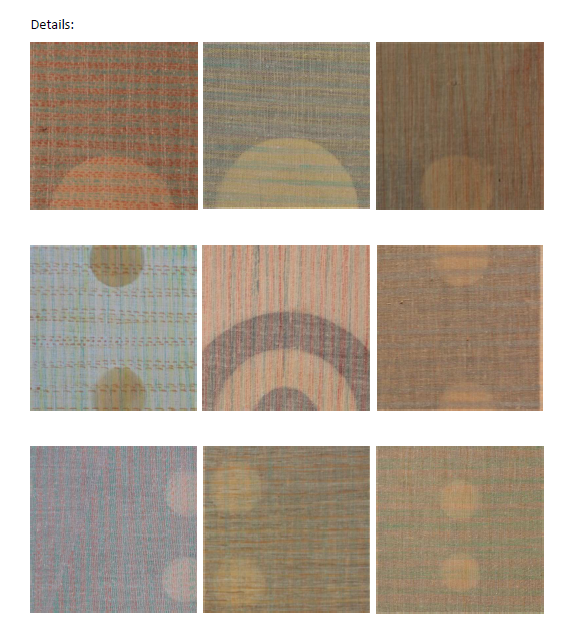 Post this work I had like to share a small association I have made! Its the eclipse sun. That day was a solar eclipse and the shadows the sun had drawn caught my attention. For some reason I resemble my work with the eclipse episodes. Sharing the images below.
This series of work is open to any kind of thoughts, opinions, suggestions and resemblances. Feel free to let me know! Thanks for reading this till the end. 🙂
You Might Also Like:
Riddhi Patel – The sea of Warp and Weft
Riddhi Patel -First post and inspirations
COLOR ME BLUE Amalia Gil-Merino
Find the resident or publication