Categories
Naked Windows, Anne Fehres & Luke Conroy
There's a lot to see during our evening walks around the city. Because of the pandemic more people are at home at night, with restaurants shutting early and bars remaining closed. Rather than observing people in public spaces, looking through people's windows, interior spaces become our focus of observation.
This observation is helped by a curious habit of Dutch society, that people living on the ground floor don't use curtains, simply because they don't have them or they are decoration textiles only. This curtain-less existence is something I have never thought about too deeply, yet for Luke coming from Australia, he notes that it seems to be a trait reserved for the Dutch.
I really like to peek inside into the living rooms of others, to be a voyeur. In the Netherlands, rather than this being devious, it is almost welcomed and expected. Those inside are also part of the gaze, staring back they often seem to be happy to get a glimpse of the people passing by. Often the interior scenes are what the Dutch call 'gezellig' (In English this translates to 'coziness'), which encompasses not only the space but the general atmosphere.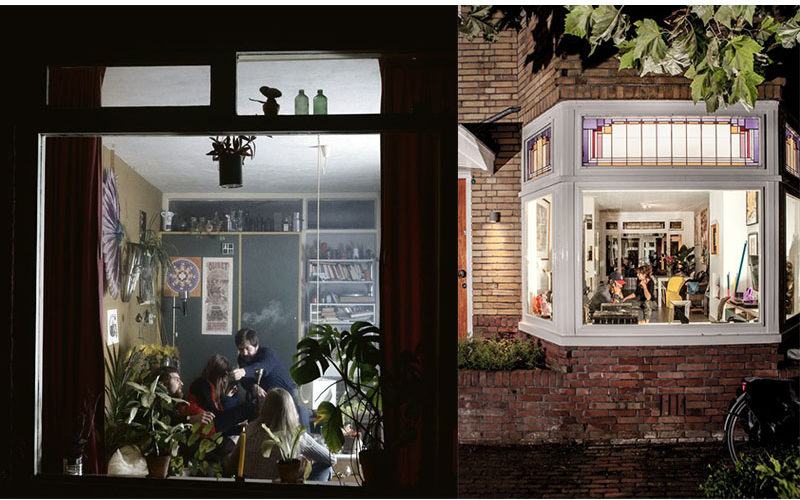 So where does this 'naked window' habit come from? It's said that perhaps it goes back to the protestant religious tradition of Calvinism – where the action of having an open view inside went to show there was nothing to hide. Others suggest that the open view is actually to show off our possessions and our good taste for interior design. While in 1660 the first curtains were seen in the cities, they were not used for privacy. Instead, the wealthy had them forever parted to the side, presenting their inside lives as a showpiece like in the theatres. So naturally, in the 17th Century people would place their best furniture and objects in the living room, and their interiors would become a stage.
Still today this tradition exists and on our nightly walks it's very common to see someone lying in undies in front of a big television screen. Do Dutch people not need their privacy? Yes, they surely do, in all the rooms except the living room.
These walks in the city got us thinking about privacy in the city. During our Zoom meetings we get a glimpse of the rooms the organisers and artists are sitting in and the Zoom meeting itself becomes a Cabinet of Curiosities. The objects in the background give us an impression of interest. Some hide this with the use of an interesting virtual backdrop (the creativity is endless, from mountain landscapes to being even placed somewhere in the cosmos) and some others are visually never seen, but only heard by voice.
The use of Zoom brings in a lot of new difficulties and frustrations, as the house environment is not always the most ideal situation for work meetings. These meetings don't make you only conscious about your backdrop – you can't make eye contact with the person that's virtually sitting in front of you, you become aware of your own messy hair and the hanging bags under your eyes. And we don't even talk about all the technical issues that are involved, even being 'online' for quite a while.
The situation is the context for the direction we plan to take our project in. In our work we hope to consider what privacy in the city is. What do our interiors say about us? What parts of our lives do we want to show to our neighbours/peers/friends? What parts of our interiors do we want to keep hidden away? In our project we will use our observations, experiences and imagination to create scenes that will give access to the ''backstage reality'' that is not often meant to be seen. For many audiences, peering into such backstage places might be considered voyeuristic, but for the Dutch it's very natural!
You Might Also Like:
Behind The Screens, Anne Fehres & Luke Conroy
Back-stage/Front-stage: Anne Fehres & Luke Conroy
The City by Anne & Luke, Delft, The Netherlands
Find the resident or publication