Categories
CRYSTAL MARSHALL – MY CURRENT WORK IN PROGRESS
I'm currently pushing through a series of works where I'm experimenting with charcoal and ink washes, something I've never done before. This is a self portrait series that deals primarily with cultural stereotypes that suppress the image of black hair. I first started with this study to have fun with the mediums and to also experiment with color. I wanted to simply observe and record any interesting findings I wanted to replicate in the final piece.
Satisfied at this point I decided to start the real drawing from photographic reference using charcoal. I really loved the results.
The preliminary drawing starts to take on a life and personality of it's own. The charcoal glides easily across the surface making it easy for me to quickly implement values. So far the image begins to evoke the mood of the piece, one of longing and the weight of bearing a burden. It also has caricature look, with an exaggeration of my features to also convey the emotion.
The depiction of the hair is not meant to be representational here but convey the image of emotional weight and the struggle with strong emotions. The height of the hair is meant to overwhelm the viewer by appearing colossal and overbearing. The uplifting part of all this is that the depiction of hair hints to have spiritual origin as I draw the comparison to sheep's wool through the title. The hair itself is the iconic reference to bearing one's own cross.
The last phase is of course is to provide a textured back ground with more washes of ink which will conclude the final stage of the painting. I also will include a re-occurring motifs in my work that symbolizes the internal and external dialogue that occurs when dealing with struggle.
This work will be apart of an on going body of work that will continue to analyse aspects of cultural identity and it's implication for the image as object. I will post the final image once complete. Thanks for following me on this journey. All feed back is welcomed.
***UPDATE**
I've now gotten through the long stretch, still fine tuning this piece. It was enjoyable doing this mixed media piece, something I haven't dabbled in for a very long time. I used embossing techniques out of curiosity and loved the results. For the first time I wasn't too preoccupied with the technical aspect of the work but more so on what it expressed emotionally. Since I enjoyed this quite a bit I might even turn it into a on going drawing series.
To be continued….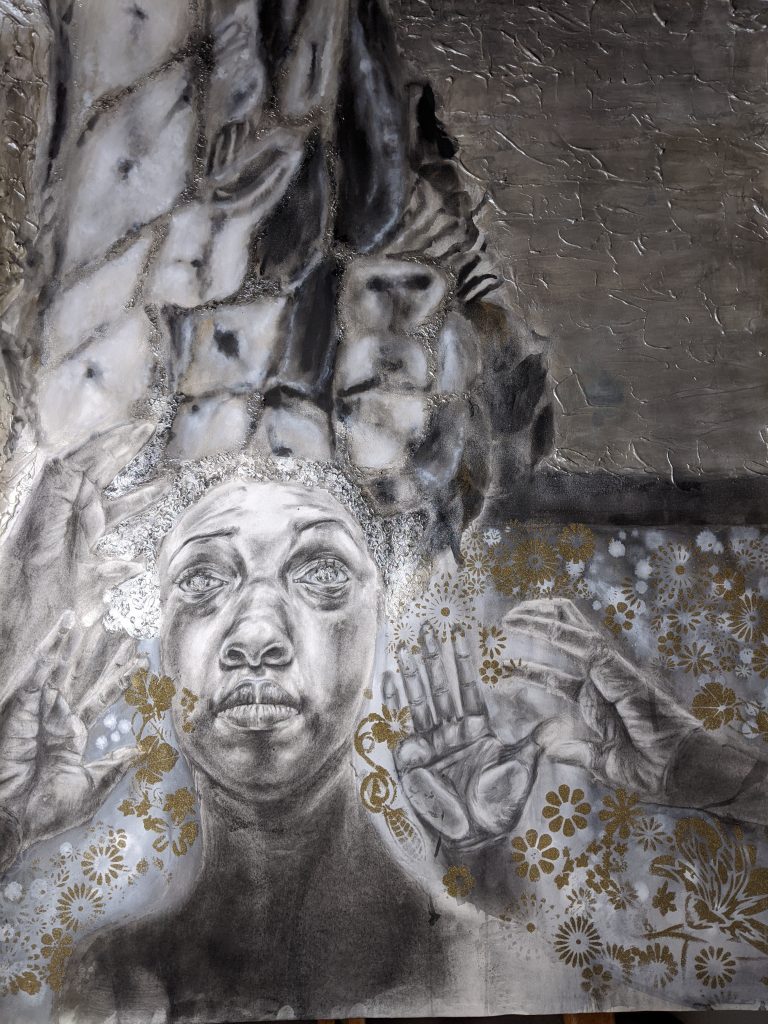 You Might Also Like:
Why do I create Instagram paintings of the past? Laurence de Valmy (USA)
About Art and Social Media – Laurence de Valmy (USA)
Find the resident or publication