Categories
URBAN ASPECTS / Quarantine – 16 Iara Abreu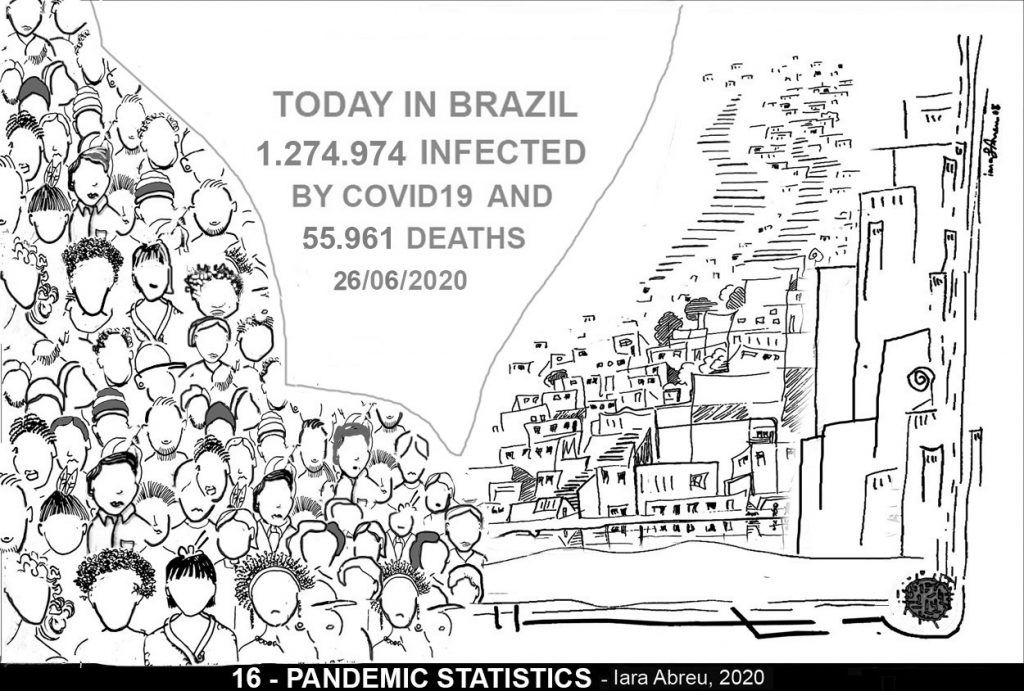 From March to June 26, 2020, in Brazil (three months),388,336 infected and 24,512 deaths. ( Post. number 13)
On June 26, one month later, in Brazil there are 1,274,974 registered infected and 55,961 deaths. *

It is observed that in just one month the number of cases caused by contamination increased more than three times and the number of deaths more than doubled.
Unfortunately, the two serious crises in Brazil continue: the pandemic and the political crisis. And the president continues to criticize the WHO – World Health Organization, saying that the pandemic is a simple flu and inviting everyone to return to normal, favoring and creating conflicts; walks without mask setting bad example, takes the lead in group with its voters in manifestos and continues calling for the easing of trade in the midst of crisis. (This information is in all media, for those who want to see and hear) ; continues to disregard health, culture, art, the environment and education.
The pandemic continues to worsen and spread across the country. In Belo Horizonte, capital of Minas Gerais, where I live, is almost in calamity in the hospital area, getting into the red. Brazil is already in second place in the statistics for contamination and death by COVID-19. It only loses to the US, according to news reports. And from Monday, day 19 of June the mayor decrees closure in several sectors that have been relaxed, due to the increase of cases of contamination and situation in the area of hospital care, that the targets for increasing beds and equipment needed to deal with serious cases were not met. Right now we're in this situation…
* This statistic was extracted from the Wikipedia website – Free Encyclopedia – 26-06-2020 https://pt.wikipedia.org/wiki/Estat%C3%ADsticas_da_pandemia_de_COVID-19_no_Brasil
16 – ESTATÍSTICA EM 26 DE JUNHO DE 2020
De março até 26 de junho de 2020, no Brasil (três meses),388.336 infectados e 24.512 óbitos. ( Post. número 13)
Dia 26 de junho, um mês após, no Brasil há 1.274.974 infectados registrados e 55.961 óbitos.
Observa-se que em apenas um mês o número de casos por contaminação aumentou numa proporção de mais de três vezes e o número de óbitos aumentou mais que o dobro.
 Infelizmente as duas crises graves no Brasil continuam: a Pandemia e a crise política. E o presidente continua criticando a OMS – Organização Mundial da Saúde, dizendo ser a Pandemia uma gripe simples e convidando a todos a voltarem à normalidade, favorecendo e criando conflitos; anda sem máscara dando mau exemplo, sai à frente em grupo com seus eleitores em manifestos e continua solicitando a flexibilização do comércio em plena crise. (estas informações estão em todas as mídias, para quem quiser ver e ouvir); continua desconsiderando a saúde, a cultura, a arte, o meio ambiente e a educação.
A Pandemia continua se agravando e alastrando pelo país afora. Em Belo Horizonte, capital de Minas Gerais, onde moro, está quase em calamidade na área hospitalar, entrando no vermelho. O Brasil já está em segundo lugar na estatística por contaminação e morte pelo COVID-19. Só perde para os EUA, segundo informações dos telejornais. E a partir de segunda feira, dia 19 de junho o prefeito decreta fechamento em vários setores que foram flexibilizados, em função do aumento dos casos de contaminação e situação na área de atendimento hospitalar, que também não foram cumpridas as metas de aumento de leitos e equipamentos necessários para atendimento de casos graves. Nesse momento estamos nesta situação…
obs: Essa estatística foi extraída do site da Wikipédia – Enciclopédia Livre – 26-06-2020 https://pt.wikipedia.org/wiki/Estat%C3%ADsticas_da_pandemia_de_COVID-19_no_Brasil
https://www.instagram.com/iaraabreu2016/?hl=pt-br https://iaraabreu.blogspot.com/ https://iluarti.blogspot.com
You Might Also Like:
Why do I create Instagram paintings of the past? Laurence de Valmy (USA)
About Art and Social Media – Laurence de Valmy (USA)
Find the resident or publication