Categories
My Spaces & ANU. Vicky Clarke, Manchester
Home Studio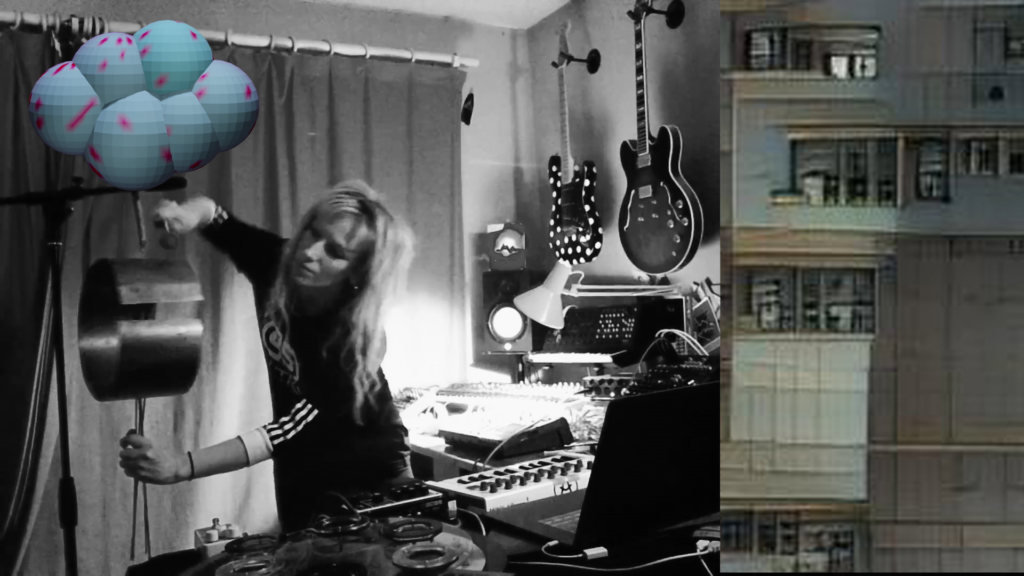 I wanted to share a little about the spaces where I work and that are important to me. At home I have a music production studio (my bedroom), with electronic music making apparatus such as synths and drum machines. This is the space where I spend time alone with sound, listening, producing and losing myself. When you work with sound, it can be quite a solitary activity and you find yourself in one space for a long time thinking, listening and contemplating whilst the changing weather fronts scroll past your window. This year this slowly evolving sense of time has been heightened by whole seasons scrolling past the window as I have been indoors so much. This space is where i'm working on producing my first album. I make music at different times of the day to explore different moods or feelings and to access different emotions. If we consider sound as the movement of particles through air, it's important to be present when you meet these movements and in a receptive, calm and open state. I explore materials and textures from objects, recordings and sculptures often working from field recordings from places I have travelled, so I sonically journey and do a lot of focused listening to the properties of these sound fragments from this one location. Though this space is physically quite small, when i'm making music it feels incredibly expansive, liberating and free. This space has been a space for connecting with others online during lockdown, transmitting from my home studio via a short film for FACTmag artist DIY or the Oram Awards livestream, so a very personal space that somehow turned into a performance space in 2020.
Noise Orchestra Studio
The other important space for making work is my Noise Orchestra studio, this is based at Rogue Studios in Manchester on the site of an old Victorian School a couple of miles out of the city centre. The studios used to be in a cotton mill space (FYI Manchester is the birthplace of the industrial revolution so the city architecture is characterised by our mill heritage) right in the centre of town near the train station. This has now been bought by property developers to create more luxury flats in the city, part of the recent property boom. This boom and the implications for communities and displaced artists was recently brought to the attention of the public via a BBC documentary called Manctopia.
I really enjoyed our network meeting listening to the insights from the people running the St Petersburg artist led spaces, it's so interesting to learn about the artistic eco systems of cities, how the forces of cultural and civic policy can shape a city and how the DIY community responds, finds space and makes work. I've always been interested in DIY music technologies and the cultures that exist around them, having access to exhibition and performance spaces and how the architectures and histories can inform the artwork being created. I did a residency a few years back called 'Might & Main' at The Penthouse, this was the last artist led space in the Northern Quarter in Manchester (the creative 'independent' district in town) which questioned the importance of artists occupying space and making work in the city, and the increasing trend of artist displacement due to gentrification, moving out towards the city to the suburbs. Our former Noise studio was at The Old Bank in Salford, our electronics space was the bank managers office, a wood panelled Dickensian space, and we could make a loud racket in the bank safe downstairs. When we moved out, we left behind hundreds of coloured off cuts bits of wire from all the circuits and soldering. The Old Bank is now a trendy tapas bar, I often think about these colourful noise traces that we left behind in the fabric of the building.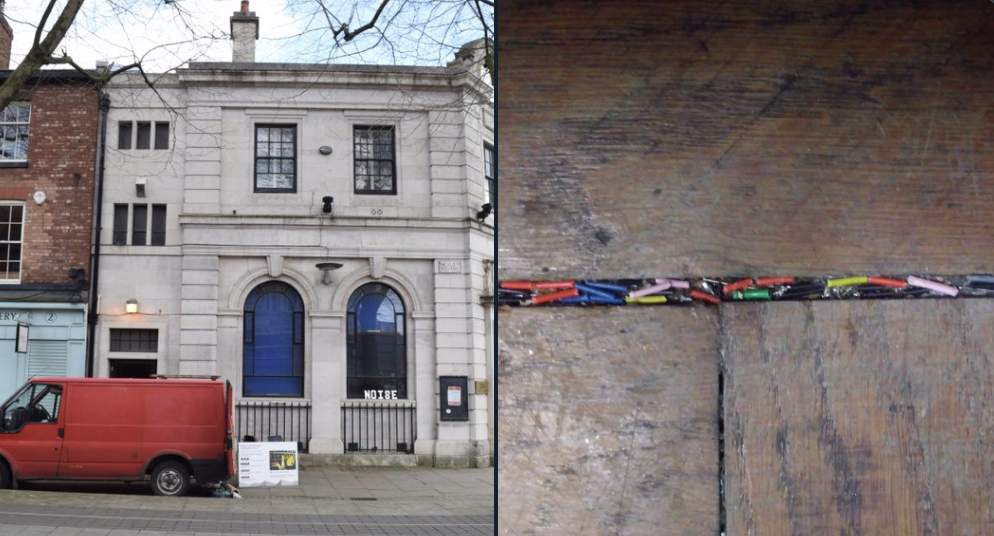 At the Noise Studio we have our full electronics setup for building circuits and machines, a large space for testing installation ideas, performing, playing and making noise. This space is a really messy hands on making space. We also host workshops from our studio space for people to learn about electronics and build our noise machine light theremin kits. Last year I hardly went to the studio. I am missing this space and the connection of seeing other people around the studios, the chance encounters and improvisation and play. The spaces we occupy inform and sculpt the work we make, the ritual journeys of going to a location to create, be loud or be quiet is a little lost at the moment with the blurring boundaries of lockdown living and work environments. On connecting with others …
ANU Autonomous Noise Unit
Our most recent Noise Orchestra project has been working on ANU – autonomous noise unit, a new project to develop technology to help musicians play together online. ANU is a hardware unit that runs Jacktrip software on a Raspberry Pi microcontroller, musicians who have an ANU unit can easily patch in with their instrument or mic, find other ANU users and improvise live over the internet via our NOISE SERVER. Think of it like a rehearsal room online.
The project was borne out of the pandemic situation, testing out available online tools for networked jamming and finding a mix of latency issues and not so great audio quality through the well known videochat services. The best open source software out there Jacktrip (developed at Stanford) whilst providing the best audio solution was proving to be a difficult interface and setup for beginners to get started. The research and development was therefore to explore how Jacktrip software could be used on a small hardware module with an easy interface for beginners, where musicians could simply plug in and play music together online. For the visual design ANU – god of the skies, we wanted to communicate ideas of transmission, summoning up ancient ritual noise fragments and communing with others across the network.
The website platform provides an introduction to the project, a technical 'how to' guide and signal flow approach plus frequently asked questions. Importantly musicians can create their own login profile and the server automatically saves the audio file of the recorded sessions for archive and playback. The platform represents the first phase in development and we are continuing live jam tests across the UK, Europe and further afield, it's been fascinating to test these geographical potentials. The internet as a space for improvisation is fertile ground for experimentation, bringing into question how we collaborate, perceive and communicate within this dimension and what that means for the players and the listeners within networked time based media. We intend to progress the project with more groups and testing and further technical developments including hosting a listen back page on the website, where previous jams can be livestreamed and played back. Visit the ANU website to learn more about the project, or our Noise Orchestra Blog to read about the technical development stages.
Maybe there is a way to connect through ANU with new people through this making space residency … Manchester to St Petersburg (they are twin cities after all, but more on that later).
You Might Also Like:
Charity Shop Dreams. M. Jacinta Silva Armstrong, London.
#VirtualSPAR UK-focused Season 3: Making Space
Timetravel & 3D space. Vicky Clarke, Manchester
Find the resident or publication